Radon and Real Estate
Real Estate Help
1. Find a California Certified Radon Tester or Mitigator, fast! Hit Button.
2. "Hold back" funds in escrow for mitigation after the deal closes.
3. Avoid future panic with a Radon Strategy, see below.
Real estate is a major contributor to the economic health of the Lake Tahoe region and is impacted by radon in ways few other industries or businesses are. This page is dedicated to helping real estate professionals deal successfully with radon while minimizing the impact on their profits or liabilities.
A Real Estate "Radon Strategy"
Avoid the "deer in the head lights" look. Know what to say, who to call and what to do (and not do) when radon comes up as part of a real estate transaction. Have a single sheet of paper you can hand your clients with facts, contacts and a plan. A radon stragegy should be part of every real estate agent's tool kit. I list here a brief outline of one, but every agent should develop their own before they need it.
Become "Radon Smart" (read a little, here and elsewhere)
Be a problem solver (you already are, now add radon to your tool kit)
Act early in the sale (avoid last minute panic)
Have a dependable, certified TEAM on your radon sheet
Network with mitigators, testers, builders, and other like- minded real estate agents.
Understand liability issues
Use hold back instructions after escrow closes (review with your escrow agent)
Remember, all radon problems can be fixed
Hold Back Instructions
A Holdback is an amount of money held back at closing by the lender or the escrow agent until a particular condition has been met. If the problem is a repair, the money is kept until the repair is made. If the repair is not made, the lender or escrow agent uses the money to make the repair. Buyers and sellers may also have holdbacks between them, to ensure that specific conditions of the sale are met.
Source.
I am not a lawer or a real estate professional. This is only my opinion as a radon professional. Please check with your escrow agent and lawyer before you act. But, I continually get asked by unprepared or anxious real estate agents, hoping to close a deal without radon testing hanging up escrow, what are their alternatives. Here is one alternative:
Consider a scenerio where an escrow is open, contingent upon the buyer's acceptance of a radon test. A short term test comes back above the EPA action level. The buyer can choose to not purchase the house. The buyer can offer to purchase the house if the seller fixes the radon problem. And since the EPA recommends a second test to confirm the first test, perferably a long term test (greater than 91 days), the buyer can request another test. If the second test and or the mitigation threatens to take longer then the close of escrow date, there is an alternative:
If the buyer received a bid to mitigate the house, or even an estimate that is agreeable to both parties, both parties have the option to execute a hold back instruction with the escrow company. In that case, the seller would put up the bid or estimate amount, lets say $4,000, into the escrow account with hold back instructions that state: At the end of the long term test, if the results are still above the EPA action level, the buyer would get the radon fixed and the escrow company would pay the $4,000 to the buyer to cover the cost of the mitigation. If the long term test is less than the EPA action level, the escrow company would return the escrow funds to the seller.
In either case, escrow closes on time, the testing and fixing are the responsibility of the buyer with the funds available from the selle. The escrow account has very clear and specific hold back instructions that are watched over by the escrow company. Again, check with your escrow company and lawyer, but if both parties agree, most things can be worked out.
Here is a portion of a legal check list that addresses hold back insturctions, found on the internet. Do your own searching.
4. Work on the property. If you or a prior owner has done work on the property in the past ten years that would have required a building permit, then there should also be a sign-off known as a certificate of occupancy issued by the municipal building inspector. If you are currently doing work o the property that is not complete by the closing, you run the risk of breaching the agreement. It may be possible to hold back funds, in escrow, while the work is completed, after the closing, but it is best avoid this arrangement whenever possible.
Here's another opinion on the Active Rain Real Estate blog.
If the radon numbers come back high, above 4, you can put in a system to reduce the potential for a problem. If the numbers are high but below 20 I would suggest that you escrow the funds to install a radon reduction system but retest the house for one year before doing so. An alpha track testing device can be installed in the home after the new owner takes possession. The house is not kept closed, rather it is lived in normally. After one year, the test cannister is sent to a lab where it is evaluated under an electron microscope. They technician counts the number of scratches n the exposed film in a given area of the test cannister and extrapolates the year average. If the average is below 4 the escrow is released to the seller. If the results are high the funds are used to abate the problem.
While this sounds like a pain in the process it really is a prudent way to solve this problem. The seller shouldn't be forced to put a system in based on test results that average two days (which only reflect the potential for a problem) when the goal is to abate annual rate problems. A buyer should not want a system installed just for the sake of having a system installed. Sub slab suction systems have an $90/year operating cost in energy use and deferred maintenance. They also suck conditioned air out of the house at an annual cost of $60/year or more.
If you handle the initial report results wisely you can not only save the deal but do the right thing for both the buyer and the seller.
Are Short-Term Radon Tests Enough?
Radon levels vary so widely in the same house that short-term radon tests often are misleading, especially in real estate transactions. It's the average reading over the long term that increase health risks. Continuous radon monitors are more accurate simply because they average readings over a longer time period than a two day short-term test. Real estate transaction should close escrow with funds set aside for mitigation if a long-term test (90 days or more) is high (see Real Estate Stragegy below for details).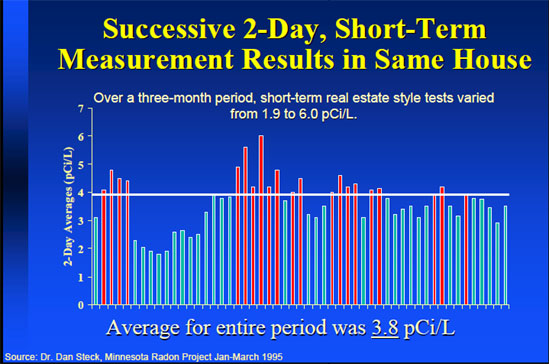 Radon and Real Estate Ads
I decided to run some advertising in the Tahoe Mountain News aimed at potential home buyers. Home buyers have the most to gain from testing a home purchase for radon. Unfortunately some sellers (and some real estate agents) avoid radon testing because they view it as a "deal killer." The truth is that any house can be fixed and the process need not disturb the sale.
This ad displays the very real (but often overlooked) statistic that 40% of our homes on the South Shore have elevated radon, that is, testing above the EPA action level of 4 pCi/L (picocurries per liter). Actually the World Health Organization (WHO) just set a lower "fix-it" standard of 2.7 pCi/L for the international community and the US EPA is considering lowering theirs as well, which would certainly include more houses.
The number 40% comes from the zip code database of all radon tests taken in the state and analysed by certified radon labs. The database is compiled by the California Department of Health Services Radon Program and is available on their web site. The nine postal zip codes that make up the El Dorado County portion of the Lake Tahoe Basin, 96150 through 96158, had a total of 1547 radon tests sent to labs, of which 612 were 4 pCi/L or greater, hence 40%. Click here to view the spreadsheet and chart of the Tahoe area. Click here to view the State radon database.
The 77% figure comes from a different source, using geological factors and population density to determine radon potential for an area and number of people likely to be exposed. The California Geological Survey published Special Report 211 in 2009 (the ad mistakenly stated 2007): Radon Potential in the Lake Tahoe Area, California. According to the 2000 Census statistics, 33,913 people live in the El Dorado County portion of the Lake Tahoe Basin. The Geological Survey determined that 25,610 people live within a "Very High Radon Potential Zone." That comes to 75.5%. I appologize for over-stating the risk by 1.5% in the current ad. I will correct it in the next ad to read 89% live in either High or Very High radon potential zone. Click here to display the chart where these numbers appear. Click here to view the map with zones in color. Click here to download or view the full report.
Radon the killer of deals
"When radon is found during the inspection process in a real estate deal, nobody wants to pay for it." So warns Adam Conrad, broker/owner of Perry Wellington Realty.
"The seller doesn't want to pay because they agreed to their 'bottom dollar' when they accepted the offer from the buyer. The buyer doesn't want to pay because they offered their 'top dollar' for a home they thought was in good condition.
"And now the stalemate. Nobody wants to move. I see it from both sides.... Heard from many sellers in a real estate transaction- "I am not paying for a radon system, the buyer can pound sand". I get it. This is frustrating. (But real estate agents) have to get the deal done.
"So if you are a seller, it is a good idea to approach this situation with eyes wide open. You may have radon that you didn't know you had. You could test for it now, or just budget for a system which could cost $900-$1800 typically. It might be better to test and fix before you list your house for sale. If radon is present, it is affecting your health now, whether you sell or not.
"Once you determine there is radon during the inspection process of a sale, you are now required to disclose this information to other potential buyers. This is the reason that sellers typically 'fix' the radon once it is discovered. Remember that 'Sellers Property Disclosure' you filled out when you listed your house for sale? You will need to update that document with the results and what you did (or not) to fix it."
Read full article on Adam's real estate page, Perry Wellington Realty.
More Real Estate Data repeated from the Problem page:
Real Estate

When buying or selling a home, radon testing and mitigation is only performed if specifically requested by one of the parties, usually the buyer, but agreed to by both. One might think that the time of a property sale would be a good time to test for radon, but many factors work against this. First is the chance that high radon levels will be found and mitigation efforts will take more time and money than the parties want to spend. Once high levels of radon are discovered, the seller must, by law, disclose this fact to all prospective buyers, with the likely consequence of reducing the demand for the house. In a "seller's market", the seller's agent may advise his client to deny the request for testing in the hopes of avoiding a negative report on the record, and simply move on to other interested buyers who may not request a radon test.
Termite inspections have become a requirement of property sales in most states, partly because financial institutions want to protect their interests in the house they lend money on. The sad fact that untested high levels of radon gas may cause lung cancer for the inhabitants of the dwellings in 20 years, does not directly effect the value of the property, and as such does not generate pressure from the powerful financial, real estate, or other interests to lobby for changes to the sales requirements. Until the time when politics and economics team up with compassion to make radon testing a requirement prior to a sale, home owners are left with the responsibility to do their own testing and mitigation efforts.
Another problem with radon testing for real estate sales is that the parties may wish opposite results and a true and fair test may be corrupted by either party to promote their own interests. Thus the inexpensive laboratory processed test kit or the moderately priced electronic continuous radon gas detector are prone to tampering and not suitable for real estate sales. Certified Radon Testers with their $4000+ anti-tamper, multifunction testing units usually charge $350 to $500, but their services can be trusted to be fair and impartial.
Ignorance is bliss?

If we continue to ignore the problem will it really go away? As our knowledge of radon increases, and public pressure grows, it will be interesting to see how our State and local real estate associations approach radon. Will they encourage radon testing on all houses and rentals? Will they see the testing as being in the best interests of their clients, without being required to by law (self-regulation, if you will)? Please see the comments under Real Estate in the Solutions section.
Click here to read Nevada's message to real estate professionals: Why Do Real Estate Professionals
Need to Know About Radon?
National Association of Realtors
In May of 1993, the National Association of Realtors (NAR) joined the EPA in urging all Americans to test their homes for radon. NAR encouraged state associations to develop and support legislation or regulation requiring mandatory property condition disclosure, including radon, by the seller. So far, this has not happened in Nevada or California.
In 1996 three real estate sales agents were found guilty and fined $30,000 for not disclosing radon tests in a real estate transaction in Pennsylvania. http://www.realtor.org/rmomag.nsf/pages/lawyouoct1996
NAR offers courses on radon for its members through Realtor University
Radon, Lead, and Mold: Issues in Real Estate
http://www.realtor.org/edmatrix.nsf/0/ccaece9cc56605e786256e21006a1efb?OpenDocument
"In cooperation with the Environmental Protection Agency, the National Association of REALTORS® developed this course to educate the real estate professional on environmental hazards including what to look for and who to call for abatement.
Course topics include Health Risks of Radon, Safe Radon Levels, Testing & Mitigation Needs & Methodology, Disclosure Requirements "
(see Word document if either above web pages is out of date)
Responsible and concerned real estate agents can take courses like these to become informed, to inform their clients and to avoid liability lawsuits.
If the above links are not working it is because the NAR has taken down the contents. Try going to the NAR web page and doing a search on RADON to view many of the lawsuits real estate agents have gotten into because they failed to disclose radon.
Renters
This opens up a can of worms! Over one-third of all housing units in this country are rental units. Most of these are either single family houses or apartments located below the third floor of a building. In most states, owners are required generally to keep their properties "habitable" - safe and fit for people to live in. Fixing a radon problem usually involves repairs to the building. Therefore, it is the building owner - and not the tenant - who is authorized to have this work done. Property owners may simply not choose to test their buildings since they percieve the work to be costly and since even the awareness of a high level reading might require them to do the repairs or at least disclose that information to the tenant or perspective buyers. It is unclear what the legal ramifications of testing or not testing will be. See the Solution section for things tenants can do to deal with these problems.
Non-resident home owners
I have heard that nearly three quarters of the home owners at Tahoe don't live here year-round. How concerned should they be about testing and mitigating a house they don't live in much? I guess they could say why bother to take out the garbage or clean the house if they don't live in the house much? When they are vacationing they are living in it and breathing air in it. It's true that the EPA assesses risks of exposure to high levels of radon over long periods of time, so short stays may not cause much of a risk. But who want's to breath dirty indoor air, even for a little while? No amount of radiation is without risks, even significant risks. Non-resident homeowners should at least take the test and then decide if the levels are high enough to warrant the mitigation costs. Currently California offers test kits for $5.
Real Estate Data repeated from the Solution page:
Real estate sales

Real Estate professionals: Visit the Real Estate page to view suggestions for developing a Radon Strategy. To better understand the radon issues involved in real estate transaction, read this booklet by the Environmental Protection Agency: Home Buyer's and Seller's Guide to Radon.
For real estate transactions, you should use the services of a certified radon tester to get unbiased, properly performed radon testing and report. The real estate industry could have a real impact on eliminating radon gas in all homes sold, as more agents recommend that their clients test for radon prior to the sale. California law can levy a $1000 fine on any radon service provider that is not certified to do radon services in the state.
We have to find ways to get the real estate professionals on the side of testing and away from the fear of radon as a "deal killer." The Colorado brochure , Dealing with RADON in Real Estate Transaction , and video, below, is a step in educating buyers, sellers and agents that radon testing and mitigating is not something to avoid, but just another step to getting a new buyer into a health home. California and Nevada should produce and distribute a similar booklet.
One Real Estate Agent's Story

Dennie Edwards, Elyria, OH
"In April of 2004, I had a very bad cold, so my doctor performed a chest x-ray to check for pneumonia. I've never smoked, so you can imagine how shocked I was that he found a 4.5 centimeter mass in my left lung.
Even though I've been a real estate agent for 31 years, I had never bothered to test my house for radon. I always informed my clients that radon testing prior to purchase was an option (to protect my liability), but truthfully, I really didn't care if they tested or not.
Now I had to wonder whether my lung cancer had been caused by radon exposure. While the doctor scheduled my surgery, I scheduled a radon test. The result was 10 pCi/l, (two and a half times the EPA's recommended Action Level). I had lived in the home for 12 years. Needless to say, I called a contractor to have a mitigation system installed.
Two days later I had surgery. I thought I was surely going to die. When I woke up choking with tubes in my throat, panic set in. They had removed my entire left lung. I'm getting better. I can walk up to a mile. But, I can no longer dance, lift things, or exert myself.
My clients now get a very personal testimonial about the importance of testing for radon ."
This story was excerpted from the Cancer Survivors Against Radon (CANSAR) web page at http://www.cansar.org .
HUD Steps up to the Plate

HUD (U.S. Department of Housing and Urban Development) has recently revised its "For Your Protection: Get a Home Inspection" form to include a radon test as part of a home inspection. (Click on the form to view the PDF file ) HUD is not requiring a radon test for FHA insurance (this would have been a much more powerful mandate), but it does mandate the use of this form for all FHA loans. Radon scientists have been working for 13 years to get HUD to address radon testing. The large federal home lending organizations, Fannie Mae and Freddy Mac, have yet to require radon testing as the do with termite testing. To read more on this go to The American Radon Policy Coalition (ARPC) from which the following quote was taken:
"WHAT THE NEW HUD MORTGAGEE
NOTICES MEAN TO REAL ESTATE AGENTS
The obvious ramification is agents may be even more liable for persuading the buyer from performing a radon test because, "we don't have any radon in this neighborhood," or "this house doesn't have a basement" or whatever excuse they can provide to avoid a perceived hurdle to closing the deal. HUD is requiring their Form to be signed and dated prior to the contract being signed and clearly recommends that all houses be tested for radon."
Radon Guide for Tenants
To really understand the radon issues involved in renting, read and print this booklet by the Environmental Protection Agency: A Radon Guide for Tenants. Tenants should do their own testing and not wait for the property owner to get around to it. If the results are above 4 pCi/L they should show the results to the property owner and request mitigation measures. Given the severity of the problem, and as pressure mounts, property owner associations will hopefully provide their members with guidelines for mitigating apartment buildings and residential rental properties. However tenants will have to be proactive here. Because of the costs of testing, mitigation and possible litigation, some property owners may have been hoping the issue would remain as hidden as the radon itself: "invisible, odorless and tasteless".
Radon in Rental Housing

Environmental Law Institute
Radon in Rental Housing: Legal and Policy Strategies for Reducing Health Risks
Initiatives targeted at reducing exposure to high radon levels in rental housing
1994

Indoor Air Quality in Rental Dwellings:
State Laws Addressing Radon

Funds may be available to reduce high radon levels in rental housing.
There are some federal programs that might be used to help fund radon reduction in homes that are affordable to limited income families. These programs generally give money to local agencies or groups, which then fund the work. Some examples are:
Community Development Block Grant (CDBG) program - funds rehabilitation and repair of affordable housing. For more information, call the U.S. Department of Housing and Urban Development (HUD) at (202) 708-3587.

"203k" program - funds rehabilitation and repair of single family homes. For more information, call HUD at (202) 708-2121.

Environmental Justice Grants - funds community-based organizations and tribal governments addressing environmental concerns of people of color and low income communities. For more information, call EPA's Office of Environmental Justice at (800) 962-6215.
Dealing with RADON in Real Estate Transactions

The Colorado Department of Public Health and Environment and CERTI , have produced two resources that explain radon in a manner that is designed not to scare people. Yes, radon is an issue, but is one that need not delay a closing. In fact, on the front cover of the brochure, it boldly says: "If you like the house, buy it - radon can be reduced." " Until California and Nevada produce similar material with references to our region, this brochure and video are a good complement to completing any real estate transaction involving radon. For a free PDF copy of the brochure, click here.
Breathing Easy: What Home Buyers and Sellers Should Know About Radon
This video satisfies a long-standing need for a short visual educational tool on how to best include radon in residential real estate transactions. With a bit of light humor, the video covers the basics, including radon science, the lung cancer risk, home inspection, building a new home radon-resistant, testing and fixing a home, disclosure, state radon offices, hotline and web resources, and key radon numbers, e.g., EPA's action level and the US indoor and outdoor averages.
The primary audiences are home buyers and sellers, and real estate sales agents and brokers. Home inspectors, mortgage lenders, other real estate practitioners, and radon services providers will also find the video helpful. Single copies of the video are free from IAQ-Info (1-800-438-4318) in VHS, CD and DVD formats [ask for (EPA 402-V-02-003) (TRT 13.10)].